Kalyves
The picturesque village of Kalyves - most part of which is literally built near the beach - is located 17 km east of the town of Chania and has 1289 residents. The village belongs to the prefecture of Chania and specifically to the province of Vamos. On the south of the village there is the famous mountain range Lefka Ori at an altitude of 2,452 m.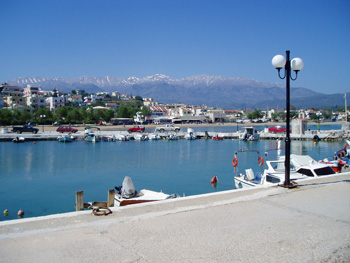 It is believed that Kalyves owes its name to the Arabs who invaded the region in 828 A.C. and made "huts" to stay in a place called Saracen. The area is still used by the locals under the name "Sarakinon" to grow olive trees. However, the villagers claim that the name came from the shepherds and farmers who built huts and looked after their land.
Kalyves is a beautiful village combining old stone houses with the latest construction trends and forming two distinct neighborhoods with typical island color. In the village square you can see the traditional water mill, built in the early 20th century, which is one of the oldest in the region. The Xydas River that runs through the village, along the Koiliaris River (on the west) gives a unique character and a refreshing atmosphere that prevents the high summer temperatures.
Perhaps the greatest advantage of Kalyves is the cool summer climate, the mild winters and the many sunny days, compared to the climate of the rest Europe. The winds here are weak in contrast to other areas of Crete. The extraordinary beauty and rare view, featuring the snowy White Mountains on the right and the deep blue sea on the left, will arouse your senses.
Surrounding areas that you can visit:
Stylos, visitors can see domed tombs dating back to the post Minoan period (1000 BC).
Sternaki, do not miss the several Byzantine churches of Holy Mary's Monastery or Zerviotissa dating back to the 11th or 12th century AD, as well as the small church of St. John the Theologian , close to the square of Stylos that was built in the 12th century AD.
Going to Samona at Kylintra, where a Mycenaean acropolis once existed, archaeologists have discovered the existence of a Minoan settlement that was abandoned during the post Minoan period between 1,100 and 1,000 BC.
The Ancient Aptera, a hidden pearl of rich history and legends, was once one of the most important city-states in the whole island and it was actually totally autonomous minting its own coins from around the 6th to the 4th century BC.